Once she had worked to repair some of the damage and had to re-learn how to sing, Twain was able to craft this entire new album of music and return to her beloved passion of performing again – albeit with some new changes. With the damage caused by Lyme disease, Twain now has to warm up for multiple hours prior to any performance so that she can sing without causing further damage.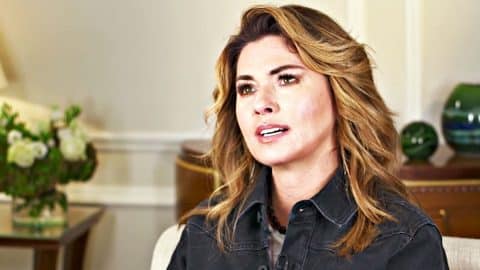 A woman who was once one of the most powerful musicians in the world finally opens up about nearly ending her career after her voice was ravaged from the effects of a debilitating disease. 
Known worldwide for her incredible series of chart-topping hits, distinct sound, and pushing the boundaries of country pop, Shania Twain is truly an icon – but at the height of her career, it all came to a screeching halt after contracting a disease while horseback riding. 
In a new interview, Twain gets choked up fighting back tears as she opens up about mourning the loss of her greatest pleasure in life: singing.
"I started having problems with controlling my voice," Twain confessed, saying she had been cleared of major effects from contracting Lyme disease. "I figured it was just fatigue. I was ending this very long tour, I had a young toddler, and I had been overworked for many years…I just figured I needed a break."

"But the break got extended," she continued, pausing to hold back tears. "Because my voice never came back."
At this point, Twain was having issues with her speaking voice, couldn't sing at all, and looked the death of her career square in the eyes. Grieving the loss of her ability to sing, she believed for years that she wouldn't ever be able to return to the stage. 
Eventually, Twain sought help from a variety of specialists in a gauntlet of testing she called "really grueling," but it wasn't until she visited a neurological specialist that discovered her permanent injury on her vocal chords. Both had a slight atrophy and required an immense amount of rehabilitation in order for her to be able to sing again.